Had a fantastic musical week that had me doing my first ever Feature Artist performance at the SAW Singer Songwriters Showcase at Brewer's Alley. A special treat among many that evening was having Bob Berberich of Grin and Hangmen fame sit in on I Found Love, The song from Sin City "tringle" that he played on.  Below is a rare performance of Come Back Kate
We had a great Alternative Lover's Ball on Valentines night in spite of this cruel Alberta clipper that has chilled our bones.  Wilcom's Inn is a dying breed of Cheers-like honky-tonks that I always have a great great time playing.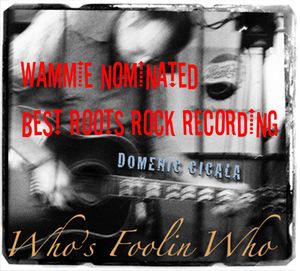 AND the ballots are out and Who's Foolin Who has been nominated for Best Roots Rock Recording!!! I couldn't be more thrilled. To venture down this road in the setting sun of my days is amazing enough. To be recognized along some some of the DC area's great talents is both honoring and humbling. The Washington Area Music Awards takes place on March 15th at the State Theater in Virginia.
and lastly I am gonna ease back finish some projects and  head back into the studio to work on some new material...stay warm...