Crazy days and crazy nights as Our Favorite Song enters the charts.   The most exciting was a debut on the Roots Music Report Americana Country top 50 album chart at #36.  Hoping to move up some and keep this record growing.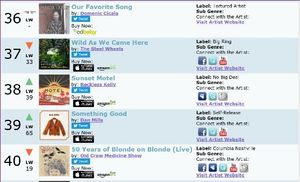 I have been doing a flurry of shows including the long anticipated Tribute to Waylon, which was a smashing success.  Now I am back in the studio working on not just a follow-up record, but TWO new projects.  One is a album of duets which I have been wanting to do since the moment I stepped into the studio for the first time.  Stay tuned!
Lot's of great live music happening these days and the latest seems to be a lot of duo/trio format shows.  Songwriters in the round kind of things which I love.
Get out and check out some great music local and national!
See you soon!